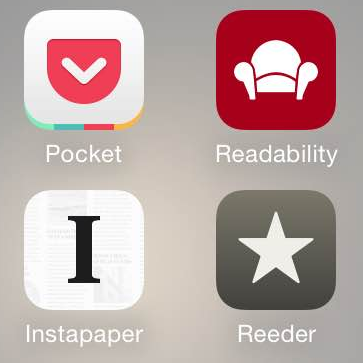 Reeder has always been my favorite app for reading my multiple RSS feeds. Simple and elegant, it allows preloading of all your feeds so that you can read them in the subway for example.
RSS feeds are usually short summaries of blog entries, and almost all major news website has some to help follow their news stream. While some sites deliver the entire content of their articles to their RSS feeds, most only send a shortened version. Users that want to read the full story click on the link and get to their website. Of course, only if you're reading it online, which is not always my case. Also, if the article is long, you may want to save it for later. Keeping a tab open in your browser is not a great way to do that. Also, an RSS reader is a poor place to keep something for long. You usually consume what's in there pretty quickly. The flow is constant and uninterrupted.
So, for articles I want to read whole, I'm sending my content to one of three apps: Instapaper, Readability or Pocket (formerly known as "Read It Later"). All three apps are made for viewing curated web pages offline. They keep a "reading list" of all the stuff you sent to them, so it is convenient to come back later to these apps and read your stuff.
They also "curate" the web page you send them in order to remove ads, menus, headers and such. this mostly work for all three apps.
So, which one is the best? Well, this is all a matter of perspective and preference. Here are mine:
Readability
By far, the most elegant of all three apps. I do have a few grudges against it:
One can only read by scrolling and not by paging. Unfortunately I prefer paging by far. Just like I prefer paging when I read a novel in iBooks, I prefer paging when reading any long piece of written content.
You can only choose between three fonts. There are plenty of fonts installed on iOS, why not propose them?
The choice of font-size is... Well... not fine grained by any means. There are 5 predefined sizes. Of course, the size I would like is between two of the sizes proposed.
You can only read in portrait mode, not in landscape mode. I like landscape because it shows me longer lines.
Clicking on a link jumps straight to Safari. Isn't (one of) the purpose of this app to be able to read offline? Not practical at all.
As many images are also links, it is more often then not impossible to zoom in on an image. The click will jump to Safari to open the link. Useless offline.
An inline video in the article does not show up in the curated article. You don't even have a hint that you're missing something.
The good parts:
The reading list gives you the number of minutes it'll take to read each entry. This give you a pretty good sense of how long the entry is.
Best UI of the lot, very homogeneous and smooth. This is important.
for example, when you increase font size, it applies to the body and the title of the article. This is the only app doing that.
it is consistently downloading all images of all articles.
All in all - and despite its shortcomings - I like it. Even the logo is
cool
. It makes me want to sit in a sofa and read...
Pocket
The bad parts:
Pocket has a presentation of your reading list that bewilders me. The title is written on the left and an image is displayed on the right hand side. This makes it looks just plain weird as sometimes the images are ugly and some articles don't even have one. And all entries have different height in the list making difficult to differentiate them sometimes.
On the reading side, the page-by-page mode is a bit hit and miss. To activate it you have to swipe from the right to the left, but this gesture is often confused with just plain scrolling. When going landscape, the page-by-page mode goes off and you have to activate it again.
The page-by-page mode has also a disturbing quirk: when you tap in the middle of the screen, it shows the header and menu bar at the bottom, which is customary. But in Pocket's case, these bar overlap the two last lines of the screen which then disappear. Thus, if you go to the next page, you are missing out on 2 lines of text (not drawn) for each page. When you tap again to make them disappear, the hidden text doesn't come back. You have to go to the next page and then go back. This is disturbing.
In page-by-page mode, you have no idea of your progression in the article you're reading. No scrollbar, no progress bar, nothing.
There are only two fonts available. Still better than one, but come on! This app is dedicated to reading, let us choose fonts!
Playing with font size doesn't affect the title of the article. You can end up with a title smaller than the body of the article. Not very elegant.
I also have images that won't get downloaded. On some blogs/sites it is even almost always the case. There's just nothing in their place... you don't even know you're missing something.
The good parts:
Clicking on an image opens it up and you can zoom in.
When you have a link in an article, Pocket will propose to open it as if it was another item in your reading list. So you don't have to quit the app to read it. But it doesn't get saved in your reading list. Of course also only works if you are online, defeating the purpose of the app. Couldn't I "Read It Later"? And to think the app was once named exactly like that...
You can choose your font size point by point.
An inline video in the article actually show up in the curated article. Of course, you cannot read it offline, and that one is understandable.
All in all, this is the less elegant app of the three, but it gets the job done. And it handles videos - it is the only one.
Instapaper
Here are my grudges:
The reading list is written in a tiny font and the excerpt in an even tinier font. And there is nothing you can do about it.
On the reading side, the page-by-page is a bit needy. If you go from landscape to portrait (or the other way) you have to quit your article and open it again for it to work, otherwise it's just plain clunky.
The page-by-page view is a bit buggy and below images there is sometimes a chunk of text outside the screen that you can't read. It doesn't happen very often though... Also, images are scaled to take the full width of the screen. If the rescaled image is higher than the screen, it is cropped. Not much of a problem when reading in portrait mode, pretty ugly when reading in landscape mode. Fortunately, you can click on an image to see it full screen and zoom inside it, so it is just impractical.
Playing with font size doesn't affect the title of the article. You can end up with a title smaller than the body of the article. Not very elegant.
I've also had images that would not be downloaded inside articles. It is pretty much consistent and no matter how many times I try to redownload the article, they're always missing. These are the same images missing from Pocket. Readability displays them fine. I couldn't figure out what makes these images not work in those apps. The good thing is that Instapaper displays the ALT/TITLE property instead (usually, the tooltip), so you know something is missing.
An inline video in the article does not show up in the curated article.
Here are the things I like about it:
Clicking on an image opens it up and you can zoom in.
In your reading list, you have a sense of the length of each article and this is a definitive plus.
You can choose among a 14 fonts (why not all the fonts installed on the device? - this is a mystery)
Clicking on a link gives you the option of opening the target in Safari or adding it to your reading list. If you're offline, well, it'll get added later. THIS is the proper way to handle links.
The reading view is elegant - just like the other apps - and there is a progress bar at the bottom. This is cool.
You can choose your font size point by point.
You can choose your margins and line spacing.
There is a link at the end of all articles to report a problem in an article such as a missing image for example.
The page-by-page navigation is the best of all three apps, despite it bugs and quirks. For example, it allows you to tap on the right of the screen to go to the next page, instead of swiping which is more tedious after a while when holding the phone one handed.
Wrap up
All in all, those three apps get the job of reading articles offline done. They also curate the webpages displayed to remove the chrome and other useless stuff. This works mostly for all three of the apps. I've had a few glitches here and there on all three apps.
Except Instapaper, the apps are free, so please indulge yourself and give them a shot.
For me though, Readability shines by its elegance and design, and also because it is the only app that works... Indeed, most of the grudges I hold against both other apps are a long list of bugs. Instapaper shines for my by its functionality. So far I'm using Instapaper and sometimes Readability to read stuff with images. If I didn't need page-by-page reading, I'd be a Readability-only guy.
I'll try to update this blog entry as the apps get updated. If you see anything I should add or remove, please let me know in the comments.
Changelog
October 10, 2014: Both Readability and Pocket were updated yesterday. Now, all three of the apps are compatible with the big new iPhones (6 and 6Plus) and compatible with iOS8 sharing, meaning you can send them pages from any app. None of the issues I mentioned in my article were addressed.
This article was last updated on November 3, 2014